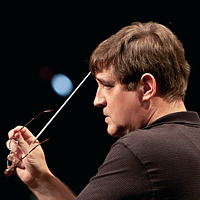 Gregory D. Kufchak
Music Director, MidOhio Chamber Players
Founded in 2003 by Gregory D. Kufchak, the MidOhio Chamber Players is a chamber orchestra dedicated primarily to recording.
They are an ensemble comprised of both professional and accomplished pre-professional musicians, to which they owe their unique, exciting, and expressive sound. They continue to produce CD albums in collaboration with Apostolic Christian choirs.
"Some of the most talented professional & pre-professional musicians from Central Ohio & beyond..."
"The sound is mellow, warm, and embracing; the tempi, uplifting. The strings add juicy delight."
"The ensemble of both chorus and orchestra is utterly perfect—a unified blend..."
"This recording is a must have. I hope you plan to release many more."

© 2018 MidOhio Chamber Players, Inc.